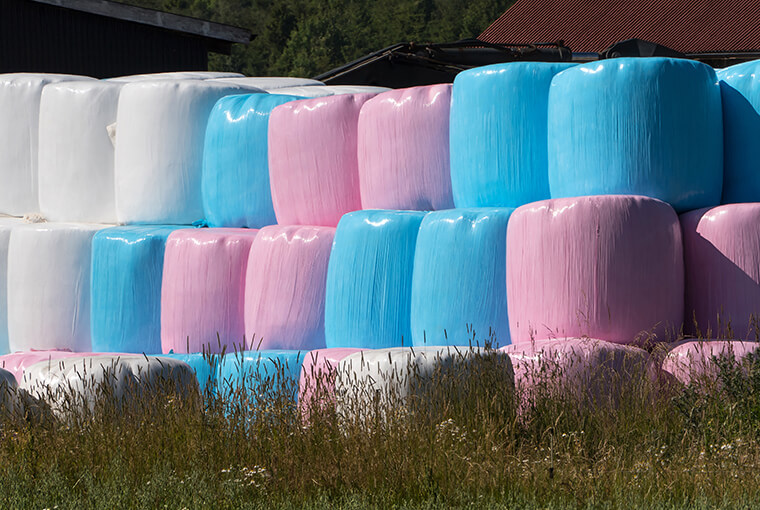 Silage Stretch Film
Our Silage Stretch Film has an excellent cling and very high pucnture resistance to help in reducing spoilage of your silage and helps in keeping the permeability of water and oxygen very low. Our silage stretch film has high load retention to keep the shape of the bale intact during the life of the bale.
Manufacturing Silage Stretch Films
Silage Stretch Films are essential for preserving and protecting silage, a type of forage stored for livestock feed. At Tilak Polypack, we specialize in manufacturing high-quality Silage Stretch Films using advanced processes and materials. Our films offer superior features and benefits that set us apart from others in the industry.
The manufacturing process of Silage Stretch Films involves blending and extruding multiple layers of specialized polyethylene resins. These resins are carefully selected for their strength, flexibility, and durability. The extruded layers are then combined to form a strong and protective film. Our state-of-the-art machinery ensures precise thickness and consistent quality throughout the production process.
Tilak Polypack is one of the leading manufacturers and suppliers of Silage Stretch Film in the world. With a presence in countries such as US, Singapore, Australia, Germany, Canada, New Zealand, United Kingdom, Ireland, Scotland and Norway, Tilak Polypack has established itself as a trusted provider of high-quality Silage Stretch Film.
Our Silage Stretch Film meets the following requirements of a good quality silage stretch wrap.
Good Mechanical Properties i.e. Tensile Strength and Puncture Resistance
High level of tack
Stabilized for protection against the damage caused by sunlight, notably UV light
Low Oxygen and Water Permeability
SIZES AVAILABLE :
WIDTH : 250 MM / 500 MM / 750 MM
THICKNESS : 23 MICRON / 29 MICRON
COLOURS : WHITE / GREEN / BLACK (CAN BE CUSTOMISED)
Please contact us on +91-9227422544 or email us info@tilakpolypack.com for quotations or other details.