Leading Manufacturer and Exporter of Lamination PE Film such as Adhesive Lamination Film and Pharma Grade Poly from Kalol.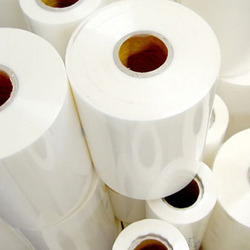 Used for lamination to polyester
Available in widths upto 2.25 meters
Thickness Range from 18-300 microns
Colours : Natural, White opaque. Other colours available on request.
Applications : Seeds Packaging, Pesticide Packaging, Dairy Products, Vacuum Pouches, Condom Packaging etc.
Pharma Grade Poly is Used for Heat and Press Lamination to Aluminum Foil for further packing of strip tablets in pharmaceutical industry
Other Applications Include for Lidding Application, Cable Wrap, Extrusion Lamination
Standard Thicknesses are 20, 37.5 Micron, 40 Micron, 50 Micron. Other Thicknesses Available on Request
Standard Colours : Natural. Others as per request
Please contact us on +91-9227422544 or email us info@tilakpolypack.com for quotations or other details.